I bought a fake Storyville artifact so you don't have to.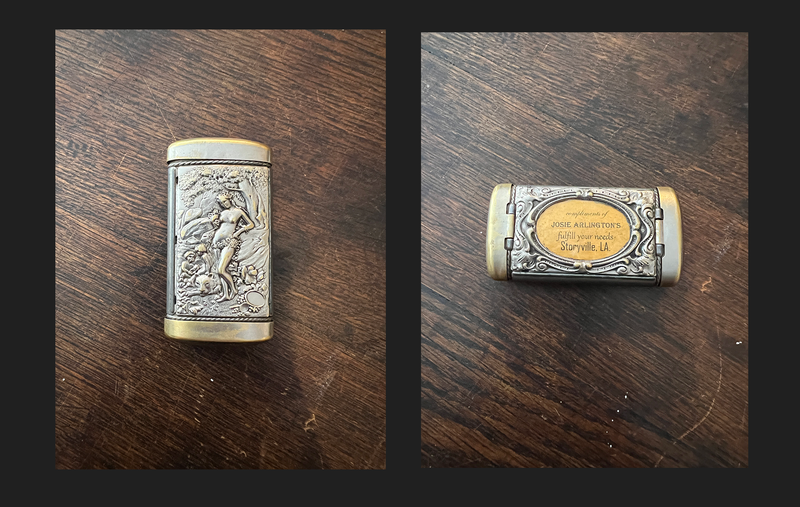 I'm always on the hunt for pieces of history from New Orleans - with the holy grail being anything from Storyville. Having only been in operation for twenty years, from 1897-1917, and later being mostly leveled to make way for public housing, very few authentic items from Storyville survived. While there was a significant amount of marketing and advertising within the district, items were rarely labeled, and attribution 100+ years later for common objects is difficult, if not impossible. In his book Storyville, New Orleans, Al Rose stated that he had studied every authentic Storyville artifact and "To my knowledge, not a single additional item has turned up in the past ten years." While it is possible (and probable) that more artifacts have come to light in the years since the book's 1974 publishing, it speaks to the rarity of items that carry provenance from The District.
There are occasional pieces from Storyville that come to private sale or auction - most notably copies of the Blue Book, a pamphlet that advertised the locations and services of Storyville. (You can learn more about these in Guidebooks to Sin: The Blue Books of Storyville, New Orleans by Pamela D. Arceneaux) Copies of newspapers such as the Mascot, or the occasional telephone directory are somewhat common. Other advertising or items from the brothels themselves are nearly non-existent on the public market.
It was especially surprising then that this past Thanksgiving morning my eBay alerts clued me in to a piece not only attributed to, but labeled "Storyville". The item was a brass match safe, with one side an embossed nude woman, and on the other side printed behind yellowed celluloid "Compliments of Josie Arlington's. Fulfull your needs. Storyville, LA". Match safes were common pieces of advertising for many different kinds of businesses - from saloons to hardware stores, insurance companies to pharmacies - carried constantly, serving as a frequent reminder of the advertised brand. I had never before seen one from Storyville, but it wasn't out of the realm of possibility that they existed there during that time.
The seller was an older collector and seller of vintage tobbaciana that had a wide variety of vintage cigar lighters, match cases, advertising, and a collection of vintage vice items including Nevada brothel cards. This collection was the perfect Venn diagram that a Storyville match safe would fit into, and lended credence to this object being a piece purchased long ago when items from Storyville may have been more available. A positive feedback history and a number of other bidders on the item helped to tell that story. However, there were a number of red flags with the auction, including three, low res photos being the only representation on the listing itself. In addition, the fonts and layout were questionable for a piece of the period, as was the idea that such an impossibly rare piece ended up in a random eBay auction without provenance.
Given that we were days away from opening a store on Royal Street based on the vice & graft of the Storyville era, I decided I couldn't pass up the opportunity to own a piece of The District if it happened to be authentic - so I bid and won the match safe without much more digging.
Once I won the item, however, I started digging and found even more red flags: There were three other similar items that had been sold in the past - but all three were from the same seller. If these were widely available enough that one person could collect multiple, it's unlikely that no other copies would have come to market in the past 15 years. Additionally, the other examples were all different match cases, but very similar in style - close enough that it was likely the same manufacturer, but all made for competing brothels in Storyville. While not conclusive by any means, and quite possible with the limitations of local manufacturers, it's still less likely that all of the major brothels used the exact same form for their advertising. Looking more closely at the purchased piece, the two bottom fonts at least appear to be modern fonts that would not have been available during that time, and a tell-tale sign appeared: state abbreviations weren't standardized to two capital letters until 1963 - before that time, and certainly in the time of Storyville, the abbreviation would have been "La." - not "LA".
A final red flag appeared when looking at the other previously sold items: fonts that did not exist at the time of Storyville, and color printing that would not have been possible during the Storyville era:
Once the match safe arrived, my suspicions were confirmed: the fonts looked modern (though certainly better than the red comic-sans off-shoot font pictured above) and looked to have been digitally printed. I decided to take off the faceplate of the piece to inspect it further, and immediately found the truth of the piece:
Once the outer case was removed, it became more clear that the advertisement was a later addition to the match safe. The advertisement was printed on a modern paper - paper that had been printed black on one side, and was printed with a "vintage" yellow textured pattern on the front to appear to be aged. The paper itself was still white, but had been printed to look older. Additionally, it became clear that the text had been digitally printed.
Very unfortunately, this piece turned out not to be an authentic piece of Storyville advertising - and I would also assume that the other pieces that had been sold previously are also inauthentic. Additionally, the eBay seller I purchased this from had another version currently at auction, as well as a completely unmarked lighter attributed to Mahogany Hall. When I sent him information about this item's authenticity, he disagreed, but still cancelled both of those auctions as well. Giving the benefit of the doubt, the current seller who said he purchased these decades ago at swamp meets could have also been fooled by a seller manufacturing faked items in the earlier days of digital printing, before the internet could be used as a quick reference for these types of items.
Though I wish this was an authentic piece of Storyville advertising, I'm glad to get the chance to share the process of researching and authenticating/determining an inauthentic piece from The District.