A Little History on Charity Hospital, New Orleans: Dr. Lauro's Labcoats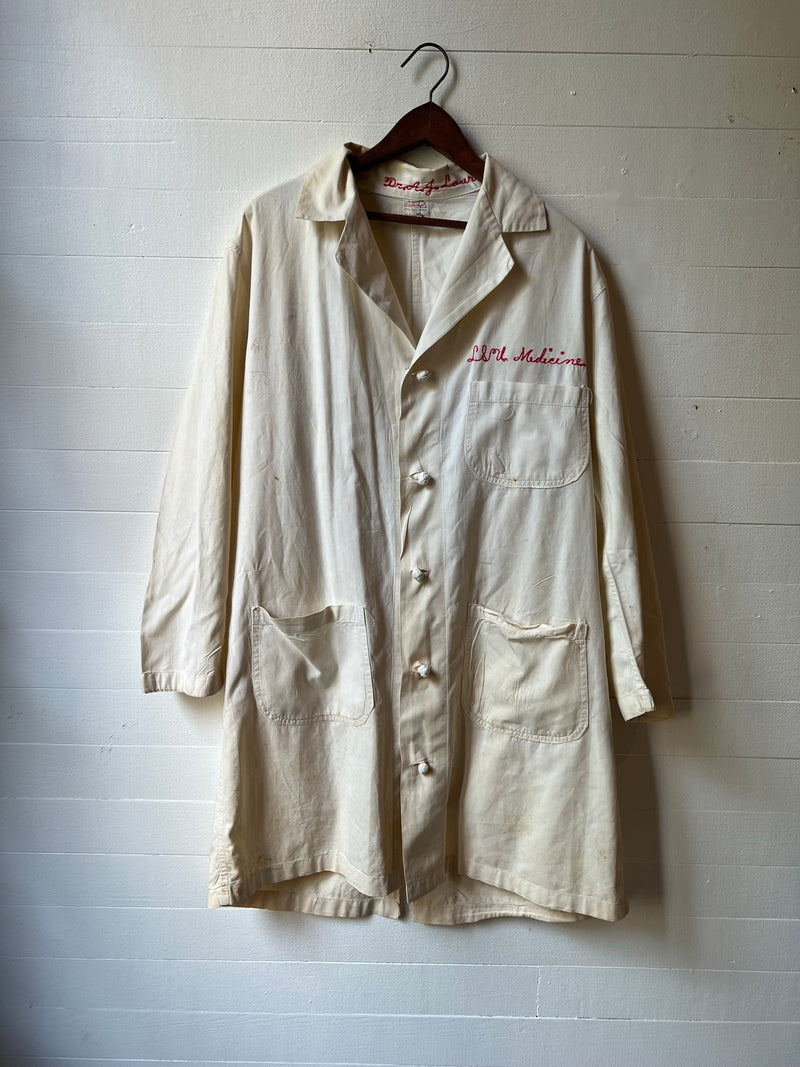 Charity Hospital, New Orleans
We came into two physician white coats (lab coats) and with the help of the LSU archivist, learned that they played an important part of history at LSU & Charity Hospital.
Charity Hospital was founded back in 1736 while the city of New Orleans was still under French rule - it wasn't yet an American city. A French shipbuilder passed away, leaving his entire estate for the purpose of providing free healthcare to the people of New Orleans.
Charity is the second-oldest hospital in the nation, second only to Bellevue Hospital in NYC which was formed just one month prior. Over the next 200 years it continued to grow, and became one of the largest hospitals in the world, with one of the busiest emergency rooms.
Originally founded at the corner of Chartres and Bienville here in the French Quarter, the hospital grew staggeringly quickly. By 1850, the hospital had changed buildings multiple times, eventually settling into the property on Tulane Avenue where it still stands today.
With work on the building continuing into the 1920s, it's grand hallways and art deco design are staggeringly beautiful, with notable art deco installations. Although Katrina devastated the building rendering it uninhabitable in 2005, the artwork and design lives on. The replacement hospital for Charity Hospital, University Medical Center, replicated the famous entrance to Charity which is seen pictured below:
Charity Hospital, known as Big Charity, was a behemoth building, offering free healthcare "from cradle to grave" for the people of New Orleans. By the Civil War (1860s) it was one of the biggest hospitals in the world for a time, and for a time following that, maintained one of the busiest Emergency Departments. At this time, there was no specific residency (training program) to become a physician who specifically treats Emergency Medicine patients.
Onto the hero of our story
The lab coats that found their way into the shop belonged to A.J. Lauro, a New Orleans physician who served in Japan during WW2. He was so passionate about medicine that upon returning home from the war he immediately enrolled in LSU's medical school and went onto to become an internal medicine physician, serving much of his time in the Charity Hospital.
By the 1950s, A.J. Lauro determined that instead of using internal medicine physicians to staff the Emergency Room, a separate, specific training should be provided for physicians seeking to render care in Emergency Rooms. Over the next decade, he worked with national affiliations to bring an Emergency Room Residency (training) to New Orleans. His work had such an impact on improving Emergency Medicine care that each year LSU continues to bestow an award in his honor.
image 1 taken from NOLA.com archives

image 2 taken from LSU Health website